MACHINING & FABRICATION
SERVICES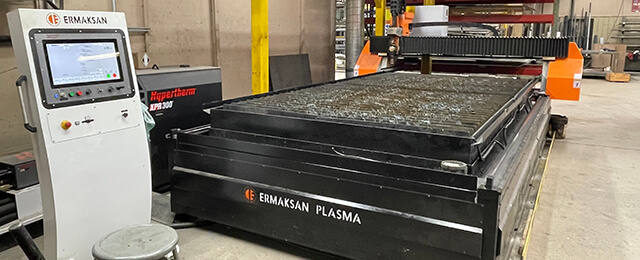 We excel in mechanical automation including research and development.  With a fully equipped machine shop as well as a fabrication shop, we have complete control of every project in-house. We welcome all machining challenges, from machine repair to "big part" milling and turning using a variety of CNC and manual machine tools.
MACHINING SERVICES
Custom tooling and fixtures
Weldment machining
Automation including:

Assembly machines
Pick and place stations
Vision inspection

CAD/CAM/ Mechanical and part design utilizing Solidworks, VisualMill
Short run production
Conveyor systems
Machine rebuilding or retrofitting to meet new manufacturing requirements.
FABRICATION SERVICES
We have fabricated parts, fixtures, machinery and equipment for the automotive, aerospace, raw material, bearing, food and consumer product industries – even movie stars' homes and retail displays.
Stainless steel process piping – food grade and otherwise
Fabrication and erection of structural elements as well as the process involved in getting Professional Engineer approval.
Work-aids, carts, racks, benches, bins, hoppers, cyclones, fences, railing, catwalk, etc.
Guarding systems and safety component integration following CSA Z4322-04 regulations.
INTEGRATED MECHANICAL'S SHOP CAPACITY
Full machine shop including – Lathes – Largest is 36" x 160" (48" in gap)
CNC lathe – 16" x 40"
CNC machining centre
NC horizontal boring mill – 80" x 70" x 72"- 10,000 lbs
Vertical mills
Shop facility of more than 15,000 square feet
EDM tapping & plunge

CNC Plasma Cutting, 6 ft. X 12 ft. table with 300A, high-definition power source
Angle rolling and plate rolling
CNC shear, 10 ft. X ½ in. capacity
CNC brake, 12 ft. X 320 ton
20,000+ square feet of shop space
W.B. Certified SMAW, GMAW, FCAW and TIG welding
Centrally located in Stratford, Ontario, Canada
4-182 King St
Stratford, ON
N5A 4S1
Mon-Thurs
8am - 4:30pm
Friday
8am - 1pm